TRANSFORMING GLASS AND RECYCLED METAL INTO ART


Through the power of art RECYCLE METAL ARTIST Ruta Wilson can move the hearts and minds of people to conserve for the benefit of all, not only in the ecological sense, but also aesthetically.
While working on site at Sky Dome, now the Rogers Centre in Toronto, Ruta Wilson could see the many heaps of scrap metal piling up throughout the site, some of which may have been destined for landfill. Realizing the importance of reducing, reusing and recycling, and that beauty and inspiration lay within the myriad of salvageable, metallic shapes protruding from the piles was the seed of inspiration that gave rise to her studio, West Rock Art Metal. Ruta Wilson, a sculptor who can imagine an exquisite art form rising piece by piece out of a junk pile, knows that her art not only reuses discarded metal, reducing waste, but believes that it also provides an alternative form of art that brings smiles to faces, and a contented sense of expanded imaginative thinking and perception.

What Ruta Wilson is doing is nothing short of inspiring. Her captivating sculptures are transforming communities through art and design. As an RECYCLE METAL ARTIST, Ruta breathes life into discarded junk metal by presenting it in new ways that range from unique to awesome. Her prolific family of sculptures is essentially a study in progress. As her sculptures gradually take shape from day to day, Ruta demonstrates an ever expanding evolution of thought and application, and a unique and unlikely conjoining of diverse, robust parts. She has the ability to recognize lively and often whimsical forms in otherwise bland, lifeless metal parts that would be overlooked by most.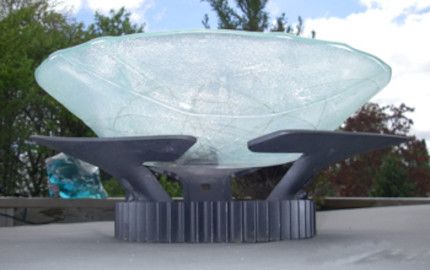 This enables her to create art that quickly becomes part of the psyche, evoking satisfaction, sometimes humour and sometimes pensive interpretation by anyone who becomes intimate with the sculptures. Each sculpture has its own unique personality and message, exclusive and moving in its own way.

Ruta Wilson's imaginative, reclaimed metal sculptures and other creative designs have been exhibited in private collectors' homes, gardens, specialty shops, galleries and art exhibitions. Her creations appeal to all ages and backgrounds, and range from entertaining to sophisticated. Recycled/reused metal art is a true reflection of the artist's personality and ingenuity. What may be trash to some is reborn for you in the hands of this dynamic RECYCLE METAL ARTIST!

Restoring the earth and inspiring the mind, one great metal sculpture at a time.